0Ongoing
Hi friends & neighbors,
KWMR's Fall Pledge Drive is ~live~ October 7-20, 2021. This is our biggest fundraiser of the year, with a goal of raising $60,000 in 14 days. We can do it- but only with your support!
We invite you to donate online to the station, in honor of your favorite show, via our Fall 2021 Pledge Drive Crowdfunding Page, here: https://kwmr.kindful.com/kwmr-fall-pledge-drive-2021. 
Your One-time Donation or ongoing Calendar Club donation will help KWMR continue bringing music, entertainment, and vital disaster-response information to West Marin and beyond. 
We really appreciate being a part of this great community. Thank you for your support of local radio!
PS: Check out the Fall Pledge Premiums: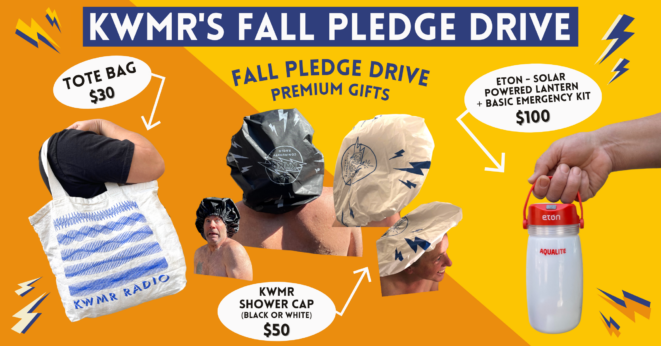 Get them while they last 
Don't be the only person in your neighborhood who is shower-cap-less
It's tote-ally worth it
You're kit-ing yourself if you think it's not
You will be showered with compliments